WHY WE HATE DAWSON'S CREEK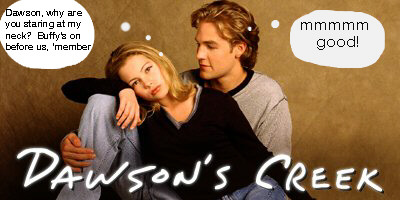 Dawson vs Zach Star| Headlines Star| DawsonStar | Joey Star| Pacey Star | Jen Star
| Froggys Thoughts Froggy Updated Weekly| PTC condemning Star | Get a Life Star | Hype vs Buzz Star| Issues Forum Star| Who We Are Star | Answering M achine Star | Sign the Guestbook Star | View the Guestbook Star | Boardroom Star|
Star- Page Made by Lea : Froggy- Made by Justin

A Little Bit of News

Help Needed!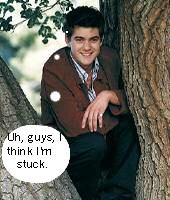 In order for Star and I to be able to maintain are
own websites we need your help. We are looking for
people who watch Dawsons Creek and can write about
both the pros and cons of it. Email me at kermit_the_fg99
@ hotmail.com
Newsletter
If you would like to recieve a letter when this page
is updated and other things concerning the page mail
me at kermit_the_fg99@hotmail.com Thankyou
-----Froggy
Introduction:
Perhaps hate is a strong word.           Drag me naked over a bed 
In this page you will find all           of thumbtacks and then 
sorts of fun things to prove             pour lemon juice on me!
that DC is a show meant to               Make me listen to "My 
corral teenagers for an hour so          Heart Will Go On" over
they can perform mind altering           and over and over!  But
experiments.  The results of             never put the cast of 
these experiments include singing        Dawson's Creek on your 
annoying Paula Cole songs,               cover again!  That has 
excessive wearing of clothing            got to be the most 
from the Gap and J. Crew, and use        annoying show ever created
of big words without knowing             and yes, I'm aware that 
their meaning.  This is meant            Love Boat: The Next Wave
to be a lighthearted stab at a           exists
show on hype overload.  If you                          
think you may be offended (and           ~A disgruntled reader of 
I must say this is pretty tame           Entertainment Weekly on a
considering), you may want to            recent magazine cover 
leave now.  If you need to contact       featuring the cast. 
me, you can email me at laissa@
theglobe.com. or at    
marybug33@hotmail.com.                   I would like to now  
If you have                              apologize for my egard to
address, you know it signs me            the pro section of this
"Maria Tenian".  Thats not my            page.  I think I'll
name, obviously.  That's the             wait until the new 
name I used to get an account            season starts in case
there, and it won't let me               I need to change my 
change the preferences.  Oh well,        positon.
c'est la vie. Lets enjoy          
the page, shall we?  A final note,       ~Your webmistress,
I am finally getting around to           Star
updating, and I'm experimenting          ~Your webmaster,
with new HTML tricks.  You see,          Froggy
school has started again, and 
now that I'm in a groove, I have 
more time to be online. I do 
realize, however that this 
page hasn't been updated in about 
a month, and that the new season 
of DC HAs started.  Yea!



---

noooooooooooooo!HATEMAIL IS HERE!Click it to read my hatemail!
prizes! Hype vs Buzz A very informative glance at hype vs. buzz, and determining which category best fits Dawson's Creek
horror! Is Dawson really Zach from "Saved by the Bell"? Click here for Dawson vs. Zach
run for your lives! Get you Dawson's Creek news with HEADLINES

ack! monsters! Get your character analysis here! 10c for Joey, 15c per Pacey, 10c per Jen, and a whopping 20c per Dawson!

bearded lady at 10 o clock! We need your feedback! Don't forget to Sign the Guestbook, View the Guestbook or interact on the Boardroom (the boardroom is terrific, I shit you not). Don't Forget!

aw how cute! So you wanna know who we are? Check us out at Who We Are in the plaza!

run, don't walk To....Issues Forum! Learn things from Joey's voice to Pacey's haircut!

where's the cotton candy? Come here to read why I'm not jazzed about the condemning of DC by the Parents Television Council.

games! Before you send me hatemail and tell me to get a life, read this.
pets!Read the thoughts and views of a frog. Froggys Thoughts
Go see some links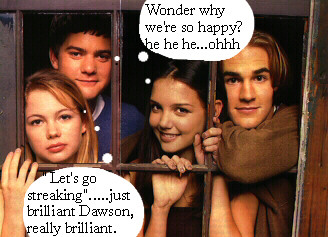 My Banner is now accesable to everyone! If you would like to link to my site, you can use the picture from my site. The address is http://members.tripod.com/~SecretAgentGirl/bannerforme.gif. I like the exposure.
Headlines
Joey
Pacey
Jen
Dawson
Who We Are
Issues Forum
Parents Television Council
Get a Life
Hype vs Buzz
Dawson vs Zach
Sign the Guestbook
View the Guestbook
Boardroom