Pal Joey
B Y J E N N I F E R G R A H A M
Dawson's Creek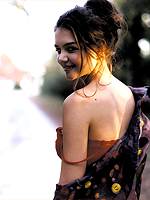 star Katie Holmes is
a natural as the confidante next door.
Katie Holmes of Dawson's Creek has just met her show's biggest fan: 16-year-old Jenny Buzzotta of Melrose, Massachusetts. And yes, Creek addicts,Buzzotta actually rates the title. She was deemed so by the producers of the MTV series FANatic,who chose Her out of thousands of applicants to fly to the Wilmington, North Carolina, set and, well, gush in person. Her take on Holmes? "Oh, my God, she's a doll!" says Buzzotta. "Like, in an article, I read that you'd want to be her best friend the minute that you meet her, and,like, that describes her perfectly." It's an apt reaction. As Joey Potter, Holmes emanates sweetness and sarcasm in equal measure, beguiling the love-struck Dawson Leery (James Van Der Beek) and, most recently, new cutie Jack McPhee (Kerr Smith). But in 3-D, she's a different sort of incandescent: less eye roll, more dimples. She reminds you of that nice, pretty girl in school, the one whose lunch table everyone wants to sit at.She's now occupying a table at a nearby Barnes & Noble bookstore, in the busy coffee-bar section, hands wrapped around a grande mug of latte. The fan has gone home, but the actress — luminous in jeans and an oversize navy sweatshirt — is still thinking about her visit. Eerily unprompted, she returns Buzzotta's compliment: "It was weird. She's the type of person that I would totally be friends with."It's an amiable sentiment but one parent types may find alarming once two sex-charged episodes air this month.So far, the WB hit (Wednesdays, 8 P.M./ET) has focused on a group of New England teens with J. Crew wardrobes (the cast modeled for the catalog last year)and Victoria's Secret conversations (frank sexual remarks fly faster than spitballs). But aside from last season's flagrant student-teacher liaison, the sex talk has been just that — until now. On the January 13 episode, three couples contemplated the deed, and on January 20, we find out who goes through with it.As for Joey's relationship with Dawson, she closed off the space between girl and friend with a kiss in last year's finale,only to pry it back open this season.Each is now tenuously paired with someone else, but there has to be a reunion down the line — teens wouldn't have it any other way. Does that mean these two will hit the sheets as well? No one's talking, but all signs point to yes."We're kind of in this position where these young girls are looking up to our characters, which is kind of scary,"admits Holmes, who says she "never had dates" in high school. "Writers are creating these characters who don't necessarily do what we do. It's entertainment." But ask a real-life teen — say, No. 1 fan Buzzotta — and she'll tell shocked adults to wake up already. "Last year I was like, 'These kids only kiss and hold hands,'" she says."So I was kind of thinking, 'When is it gonna get more'90s?'" Holmes concurs: "We're just trying to be realistic about growing up."So is Kevin Williamson, the show's 33-year-old creator,who based Joey and her hormone-gripped cohorts on his own coming-of-age experiences in Oriental, NorthCarolina. (Arbiter of all things teenage, he also wrote"Scream" and "Scream 2," "I Know What You Did Last Summer" and the recent release "The Faculty.")Although Williamson is in Los Angeles and rarely on the Creek set, he and Holmes, 20, are close confidantes by phone. "We always talk about relationships and stuff," she says. "And sometimes I'll get a message-'Go to the store, get some sugar-cookie dough and call me, and we'll eat it together on the phone'-because one of us is depressed about a relationship."But Holmes's bonding ability is most palpable when she leans over her coffee to confide a secret: The characters' ever-burgeoning vocabularies (a Dawson's Creek trademark) don't exactly roll off the tongue. "Last year," she says, former castmate Scott Foley "was like our big brother. And at the table reads I would come across words, and before I had to say them, I'd be, like, [whispers] 'How do you say that?'" To this day the 26-year-old Foley (now Noel on the WB's Felicity) teases her. "I'm better this year!" she insists. "Gimme a break, I was just
out of high school!"
Continued on Next Page